Feast from the rich buffet...
Breakfast, that means being pampered in the morning at your leisure. Enjoy our vital organic Sun Hill breakfast and start the day with fresh rolls and bread selection, honey, yoghurt and curd cheese, fresh fruit, egg variations, homemade jams and many other delicacies.
We source mainly seasonal products from our organic partners in the region. If you are missing something or have any questions, feel free to speak to our attentive staff.
Our breakfast gives you a good feeling and energy for an optimal start into the day. Bon appétit!
Opening hours breakfast buffet
Monday to Friday from 6:30 to 10:30 a.m.
Saturday from 7:00 to 10:30 a.m.
Late riser breakfast
Sunday and public holiday from 7:00 to 11:30 a.m.
Gern auch für unsere Außer-Haus-Gäste (27,50 € pro Person)
Book by telephone
at ☎ 05821-5410
"Breakfast is the most beautiful of all meals. You're rested and young, you haven't been bothered yet and you're full of hopes and plans."
Heinrich Spoerl

It gives us great pleasure to prepare and vary the large breakfast buffet, so that our regular guests can always look forward to a new start to the day.
We also pay attention to regional partners in organic quality for the breakfast offer, where possible.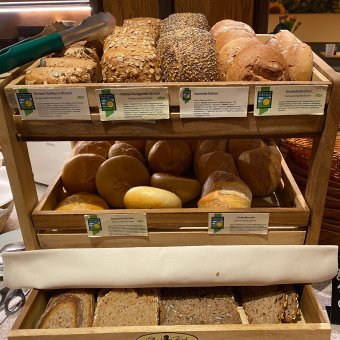 Buns and croissants
We use organic flour from Bauck Hof for our homemade breads and cakes. The organic rolls and breads, such as the spelt wholemeal pillow or spelt rye rolls, Franz rolls and croissants, we get daily from the Bohlsener Mühle.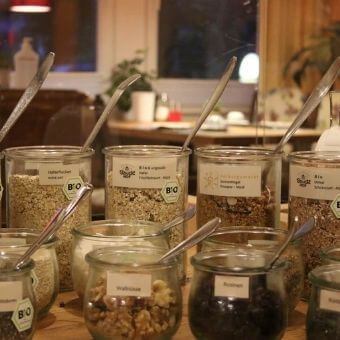 Large muesli selection
We get our muesli from Bauckhof Rosche, which is natural food with heart and mill. Choose from oat fruit dream, spelt chocolate tender, oat nut delight, crunchy or oat flakes. You can also refine your muesli with flaxseed, walnuts or coconut flakes.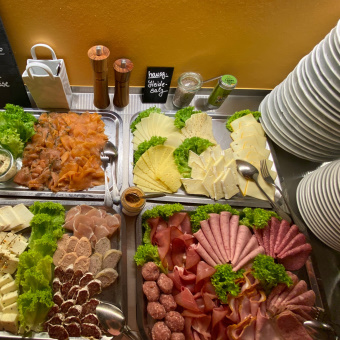 Sausage, salmon and cheese
We get most of our Demeter-quality cold cuts from Bauckhof Klein Süstedt. The smoked organic salmon trout comes from the regional Benecke trout farm and the tasty organic sheep cheese comes from the Elble sheep cheese dairy near Bleckede.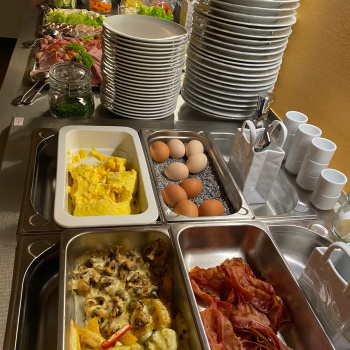 Egg dishes and warm extras
Enjoy a boiled organic egg or scrambled eggs with bacon, freshly prepared several times in the morning and exclusively in organic quality.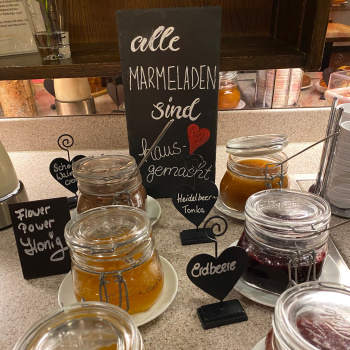 Homemade jam
We offer a wide range of homemade jam and marmalade. Try your way through our delicious varieties, such as mango apple jam, forest fruit, quince jam, apple honey or pumpkin lavender jam. The selection varies depending on the season.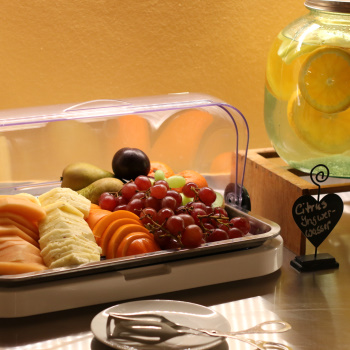 Fresh fruit selection
In addition to regionally grown apples, we also offer grapes, strawberries, watermelon, pineapple, oranges, mandarins, plums, kiwi or papaya. The selection varies depending on the season. Combine the fruit with our organic muesli for extra vitality.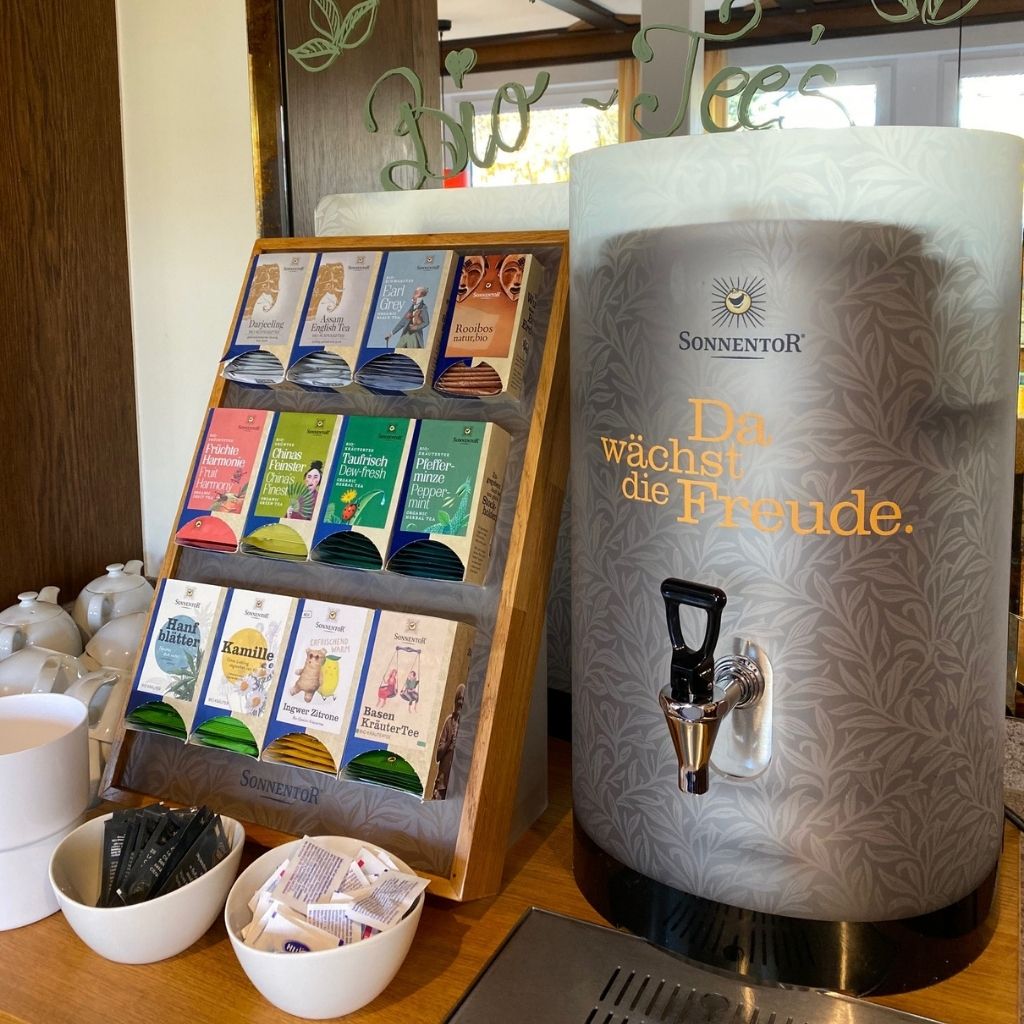 Hot drinks
In addition to our freshly prepared coffee specialities, we offer a large selection of organic teas from SONNENTOR. These can be refined with a dash of ginger syrup. Why not try the organic green tea China's Finest or the organic herbal tea Dewy Fresh.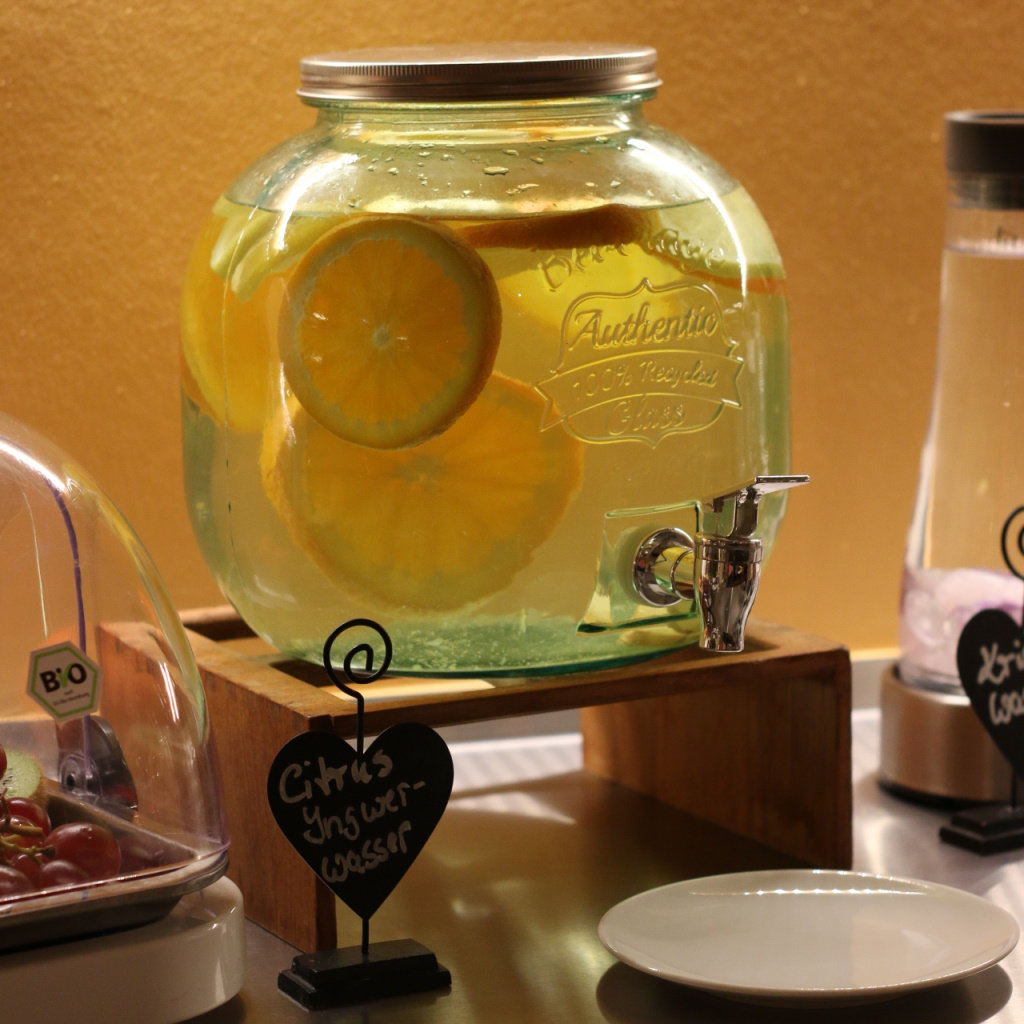 Cold drinks
A vital breakfast buffet also includes cold drinks. We offer a selection of Voelkel organic juices (orange juice, multivitamin juice). In addition to the crystal water, we put on different flavours every day, such as cucumber-lemon or mint water in the summer.
How our customers like it
Dear hotel team,
it was very nice here again, especially the breakfast buffet is great. Creative and loving, as is the service. We were especially pleased with the homemade treats. Many thanks to Alexandra.