Our Sonnenhügel team enjoys their work, is very cordial, competent, courteous and friendly. Important aspects for us as a family business.
The many positive reviews we receive on a wide variety of channels show that we are not just saying that.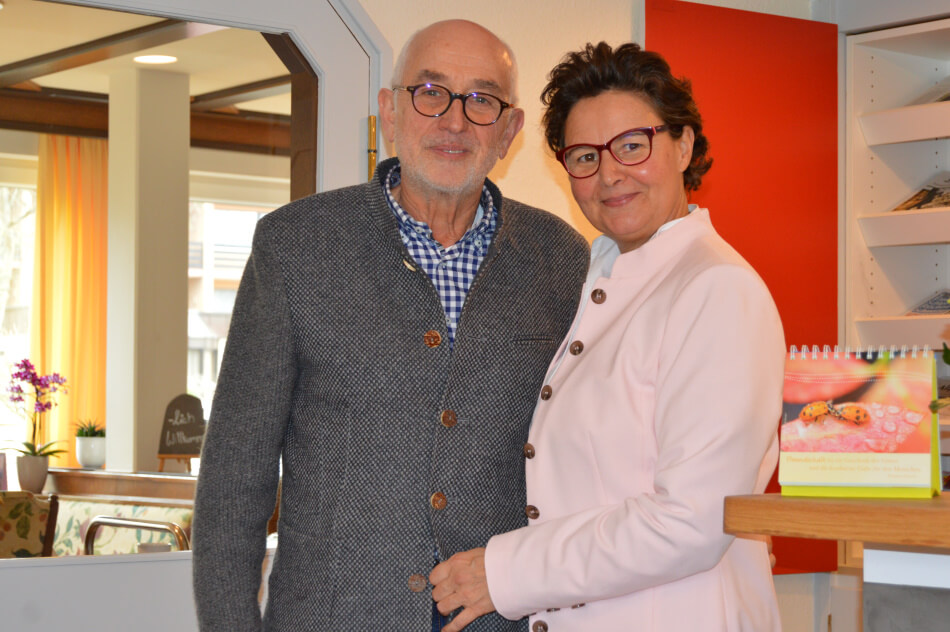 Petra and Rolf Behn, married
Owner and your hosts at Hotel Sonnenhügel in Bad Bevensen
We are a family-run business in the second generation. Owner Petra Behn took over the 50-bed hotel in 2004 from her parents, who had run the Sonnenhügel very successfully for 23 years since 1981.
After taking over in 2004, Petra and Rolf Behn have continuously modernised and embellished the hotel.
2011 with winter garden the new wellness landscape.
Then in 2019, the complete modernisation of all rooms, which now radiate a cosy, high-quality modern living comfort - including real wood parquet. The modernisation project was rounded off with a new stainless steel à la carte hotel restaurant kitchen.
In 2017, we opened the Wandelbar restaurant with the aim of offering our guests organic, seasonal and regional products from the region in our kitchen. We have succeeded step by step, because since 2021 we have been partially certified organic in the hotel-restaurant kitchen.
This means that we are on a very good path forward in terms of sustainability in the region here, in the east of the Lüneburg Heath.
It is very important to us to be a good host for our guests in the hotel as well as in the restaurant and at the same time a good employer for our
It makes us proud to have created a place of well-being where the guest can relax and our team enjoys working.
A team that has been working together on our side for a long time, brings in many ideas, distinguishes itself through its competence and fills the Sonnenhügel with heart every day with a lot of joy.
As a result, we largely offer you a sustainable feel-good holiday
- because good things are so close and keep the ecological footprint small.
We look forward to seeing you!